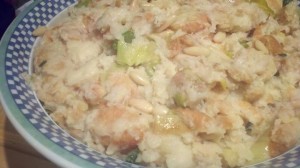 Three more weeks until Christmas dinner, or lunch depending on how you roll. My family is still debating on whether we have ham, lamb or a roast, but my mother insists I make my leak and pine nut stuffing to have on the side. Yes, I said side because I don't stuff my birds, but this recipe works inside or outside your once-feathered friend. This is a recipe I learned from my ex-grandmother-in-law and tweaked it a bit. It's easy and makes for great leftovers because this recipe can easily feed fifteen people, so have two containers to bake it in or scale it down to your speficiations. Enjoy!
Leak and Pine Nut Stuffing
Ingredients:
One large onion        One package of powdered Cream of Leak Soup mix
2-3 stalks of celery               16 to 24 ounces of chicken or turkey stock
One good-sized leak                        1/2 cup toasted pine nuts
One stick of butter                          6 cups of dry bread cubes
Let's talk bread cubes for a second. You can make your own, or buy them in the store. What's important is that they are dry and made from a hearty loaf of bread, like a chibatta or French or Pullman loaf. Softer breads tend to make a soft and soggy stuffing, and you don't want that.
Toast your pine nuts in a sauté pan or while your oven is pre-heating to 385 degrees. Don't let them burn! 🙂
In a large pot melt the stick of butter and cut the onion, celery and leak into even-sized dices. Toss the veggies into the butter and sauté with some salt and pepper until soften. Add in the pine nuts and the package of cream of leak soup. Then add in three cups of stock.
Add your bread cubes and mix it up. If the mixture looks really dry, add more stock. The bread cubes will soak up a lot of juice, but you don't want your stuffing too dry or too soggy. When your mixture looks wet but not flooded, you're good.
Transfer the mixture into a baking dish, or two, and bake for thirty minutes. *Leak and Pine Nut Stuffing by Anna AlexanderIf your stuffing appears dry when you remove the dish from the oven, you can always add a little spoonful of hot stock over the top, because I know you all have a small pot of chicken stock on the stove. Don't you watch Food Network?
Happy Holidays!