Book Three- Elite Elements

For most of their lives they've lived in the shadows, pulled from every nation and background, united by one common cause—an all-consuming hatred of Red Wolf. The unquenchable desire to rid the world of his very existence fuels them, drives them. These men and women pulled the fallen Elite from the snow-covered wreckage of Operation Phoenix years ago. To some they're called saviors. To others they're called traitors. As Red Wolf's power grows, the end game they've sacrificed everything for may destroy them all. Or just maybe they'll finally find the peace they've been hunting for. Revenge is their salvation but is there enough humanity left inside them to save?
A new end. A new beginning. Elite Elements.
Buy Links : Amazon : iBooks: Kobo: Barnes & Noble
 Vibranium's Truth
 
It's not the size of the gun that makes a warrior, but the strength of her convictions.
Evan "Vibranium" Christopher loves to rub Chrome's nose in his failures ever since the sergeant turned him down for a place on the Elite Recon teams. Following up on a lead, the Elite Metal teams dropped is another opportunity to prove who's the better Marine. But when an unknown player appears from the London fog and kills his target, he's surprised to discover the assassin is an intriguing woman with ties to the Red Wolf organization.
For years Miho was a slave to the men in Red Wolf's employ, and when she escaped their clutches she vowed to liberate the other girls held captive. When the handsome American offers her the means to cripple the men who took her innocence in return for her cooperation, she agrees.
Their hunt takes them to the neon glare of the Red Light District where the sexy bohemian atmosphere lowers their inhibitions. Truths are revealed, souls are laid bare. And when promises are broken, Evan will decide where his true loyalties lie.
Book Two- Elite Ghosts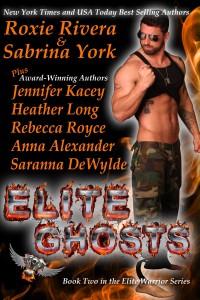 For more than two years they've been ghosts. Nothing but names on empty tombstones. Men and women forced to fade into the background after being pulled from the rubble. Dead Marines saved from a fate worse than death, but ordered to stand down while their lives disappeared all around them.
Some knew it could happen if a mission exploded. Double crossed by more than just Red Wolf. But now is their time to be reborn from the flames of a Phoenix. No longer imprisoned in the shadows. A half-life between them and their future. To make things right coming back to life is their only option.
Loyalty is their salvation but damage is always more than skin deep.
A new hope. A new family. Elite Ghosts.
Buy Links: Amazon: Barnes & Noble: Kobo: iBooks: ARebooks
Thallium's Submission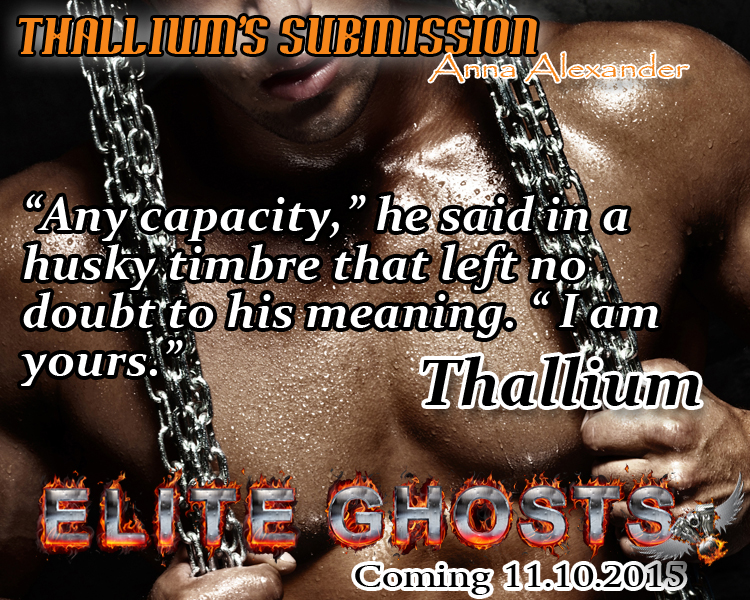 Timothy "Thallium" LaStrange is the perfect Marine, and takes the phrase "live to serve" to an entirely new level as he carries out any order he is given. His mission: Protect the ex-wife of the president of one of the most notorious motorcycle clubs before she testifies to put her former husband away forever. When their location is compromised, Thallium is cut off from his team and must take the lead to keep his charge alive—a task th
at becomes increasingly difficult the more time he spends with the sexy, dynamic woman who makes him want to fall to his knees in worship.
Athena knew what she risked trying to put all of the ugliness in her life to an end. And now, that includes a young, battle-scarred Marine who is the only thing standing between her and death. Thallium's strength and honor are too beautiful to put in harm's way, and when he admits his need to submit to her every desire, she'll do anything in her power to protect him.

Book One- Elite Metal
For decades the US Marines funded a top-secret unit known as Elite Recon. A deadly group of men and women sent to infiltrate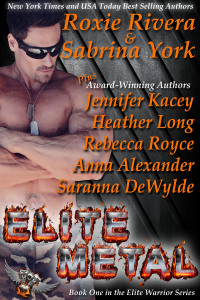 dozens of countries completely undetected. Mission objectives so extreme casualties were not only probable, but expected.
The current batch of operatives had returned from hundreds of assignments unscathed…until one mission went horribly wrong. Several men lost their lives and the group disbanded. The remaining leathernecks were scattered in the wind with new identities. They were told to blend in. Be normal. Or face being forever silenced just like their fallen brothers.
Now, two years later, each living member of the group is kidnapped and given a chance to make things right. But this time they're no longer under the thumb of Uncle Sam. A mysterious private backer who knows about their past has brought them back together. No longer are they forced to turn a blind eye to the lost and forsaken.
A new life. A new future…Elite Metal.
 Buy Links: Amazon : Kobo: AReBooks:
Adamantium's Roar
Adamantium feels right at home being back to what he does best with his Elite Metal buddies, especially if it keeps his mind off her. Beth Bradshaw. His best friend's girl. But when their paths cross again, he discovers Beth is in the hands of a dangerous man. Vow or no vow to his Elite Metal family, Ant will do anything to claim the woman he loves
Bound by Steele – (Co-written with Jennifer Kacey)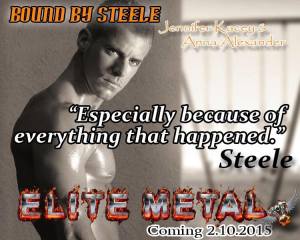 Steele, the man he was, died. A civilian with a new name stands in his place in the wake of death. Everything he had, lost when his undercover contact, Venus, disappeared when it counted most. In the shadow of regret, Steele is reborn from the flames of a Phoenix. To right the wrongs that destroyed his military family, he must put his trust in the hands of a mysterious backer, and the woman who led his team to the slaughter.
Not knowing who sold her out at the final hour, Alayna Devlin, spent the last two years on the run. Until the mastermind behind Elite Metal tracked her down, granting the chance to atone for past mistakes. To cleanse her conscience requires a baptism by fire and submission to the man who will either put the final nail in her coffin or set her heart free.
The past. The future. Truth. Lies. Nothing is as it seems when two shattered hearts are finally given the chance to heal.